Terri Scriven is the Head of Hospitality for Google UK, which means working with hotels and accommodation providers in Europe and beyond to help them to optimise their digital distribution and online marketing strategies.
An online marketing strategy and e-commerce expert with more than 17 years of experience, Terri is at the forefront of the digital revolution for hotels. A leader in her field, she delivers regular seminars and keynotes, and was a panellist at the Revenue Strategy Forum in London in 2016. We caught up with Terri (right) to find out more about what hotels should be doing to heighten their online presence in a bid to compete.
What are the main Google search tools that hotels, especially independents and small chains, should be taking advantage of?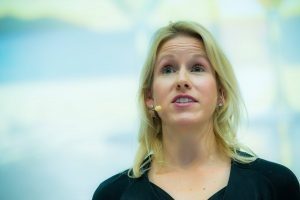 Now it's very much about audience targeting and making sure that the hotels are making the most of the content on their website. That includes providing content on everything that's around their hotels. It's about offering niche keywords on what the hotel has to offer, as well as to highlight unique things to do around the hotel. Other Google tools that hotels should be using centre on the user experience, especially for mobile. We have a site that offers free UX and speed testing: testmysite.withgoogle.com. For example, 3 seconds is a typical good load time, hotels average 11 seconds while online travel agents average 2-3 seconds. We are encouraging more hotels to go down the AMP (Accelerated Mobile Pages) route. There are a lot of tricks that can be done on AMP that you can do to improve your mobile site and it's easy to do. We also encourage hotels to subscribe to "Think with Google". This can provide a destination demand dashboard showing destinations which countries demand is coming from. There's a lot more there about micro moments and hotels can learn a lot on the specific types of travel moments.
What can Google Analytics tell hotels about their performance online? And how can they use this data to target potential customers more precisely?
Google Analytics is a free tool, but hotels have to make sure that they are using it and have tagged their hotel accordingly. There's some great information about the path to purchase, new reports about the audiences, types and interests of website visitors, etc. Hotels need to really use that information to identify what customer segments to target. You can also learn more specifics about the conversion pathway and what pages on your website have had the biggest bounce rate or have led to conversion. You can then set goals up to track those aspects of the conversion path. The role of mobile in conversion is also becoming more important. Mobile devices now account for 24% of conversions, expected to be over 33% in 2020 (in Europe). We are seeing a lot of multi-device journeys: mobile to mobile, mobile to tablet, desktop to tablet, etc.
How can hotels then personalise the would-be guest's online experience to nurture them down the path to conversion? How important is personalised pricing in this?
Personalised pricing is incredibly important in this. It is about customising the content to the persona or segments you've developed in Google Analytics. There are other tools out there to do A/B tests on the content on your website to help you adjust it to specific audiences or offers. Optimize, an extension of Google Analytics 360, is a good example. Individual hotels should look at the type of interests from Google Analytics and develop based on this. These show your consumer's passion points. From here you can adjust your offers and include key in-hotel experiences – then they are much more likely to convert. Also, if you know they have already stayed with you before and liked a certain type of room or dined with you, that type of information will also help you to convert them again and should be tracked in the Hotel CRM system, ideally linked with the PMS.
How can hotels take advantage of Hotel Ads in a highly competitive market?
Google Hotel Ads help hotels to promote their property on Google.com and Google Maps, across desktops, tablets, and mobile devices; it is the metasearch offering within Google search appearing below the paid search results. Google Hotel Ads require the hotel to have a feed or to work with an integration partner to provide the feed for them. This then feeds into a listing that appears after the paid search result, on the map and metasearch offering. Book on Google supports an improved conversion by linking directly to an improved hotel's checkout page so browsers can book direct via the hotel's website. This is still in beta, with only a few of hotels trialling it.
How can Google help hotels compete with the OTAs?
We are working very much on the book-direct method – aligning our tools within search, Hotel Ads and dynamic remarketing, all to drive increased direct bookings for hotels, really helping them beat the OTAs. It's an economic challenge: How do you level out the cost of OTA commissions with marketing costs? Direct bookings are cheaper than OTAs when you look at net revenue; hotels can fill rooms using targeted search and hotel ads cost effectively, and it is our focus to help hotels do this. Overlaying audience lists within Google Search improves the targeting and likelihood of site visitors converting into guests – this is key to winning the direct booking. OTAs have been applying this approach for the last three years and most hotels, especially independents, don't yet and are still bidding only on keywords. In-Market Targeting is also new and allows hotels to target their ads only if the user is looking to book a hotel.
Consumers typically research on mobile but convert on tablet or desktop. How can hotels factor this into their online marketing activities?
Don't measure conversions based on the last click, as there are multiple touch points that contributed to the booking. Cross device monitoring and management is available in AdWords to help you target better. Develop a responsive site that adjusts to whatever device your customer is searching on. Also, there are mobile terms that work well, such as "hotels near me".
How important are micro-moments at engaging with customers, especially via mobile?
People will search for five minutes here, five minutes there. You have to engage them. Think about what they might be searching for before the hotel. You want to capture those "Where's a good place to stay" moments. Make sure your site carries content on what's going on nearby, where to visit, or what tourism attractions are local. Also cover timely events, such as Valentine's Day.
For hotels using paid search, how can they make their adverts stand out? If we see 5,000 adverts every day, how can hotels get noticed? And can a property.com or brand.com advert ever get above booking.com in the top four ad positions?
Audience lists: That is how you compete against the OTAs. You have to build these into your AdWords account. Make sure you bid on those audiences you want to attract so that you show up higher in search. Relevancy is key. Making sure your site is linked to your ad and it is relevant to what people are searching for. For mobile ads, make sure you use mobile terms, such as "hotels near me" and factor in the last-minute nature of these searches with an immediate call to action, "book now". Lastly, use the unique selling points of the hotel. Consider why people should book with your hotel; what has it got going for it that other hotels don't offer? Expanded Text Ads were rolled out at the start of the year. These offer longer lines of text and have a better conversion rate. Use neighbourhood keywords over city keywords – "Covent Garden hotel" rather than "London hotel" – and anything else niche in terms of what the hotel has to offer. Then overlay this with the audience list.
How important is it now for hotels to break down the silos and bring revenue management, sales & marketing, e-commerce and CRM together? How can a combined approach assist with a hotel's digital marketing efforts?
Very important. We're seeing a lot of hotels doing this right now. We are seeing them restructure ecommerce, revenue management, sales and marketing, and linking these to customer data and insights with marketing messaging. Data is the foundation for all of that. We are very data driven; programmatic and automation is really key. The ability to link other data sources into your programmatic tool, using DoubleClick, is at the heart of what we are doing here. Some advertisers are more sophisticated than others, linking Google Analytics data and leveraging the cloud to integrate with other business systems' data, such as the PMS data. It's exciting to see that happen. Only the more sophisticated hoteliers are looking at that. I hope to see more of this in the future. Source: 
4hoteliers.com